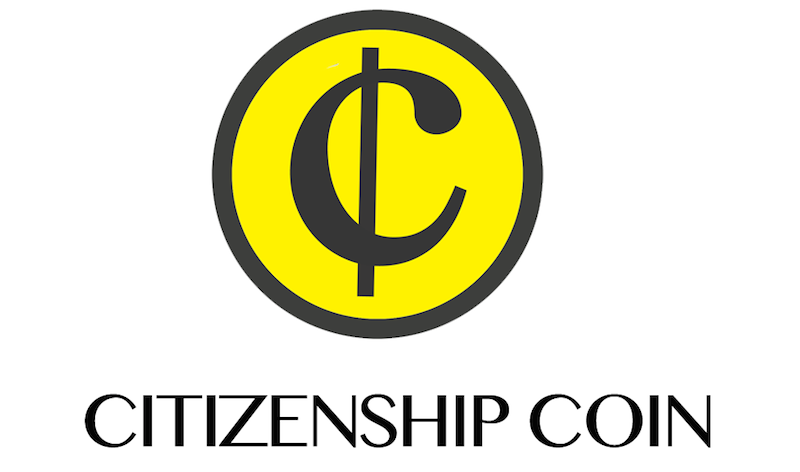 Citizenship coin
Citizenship coin (CTZ) is a P2P crypto digital currency for the investment migration industry (CBI/RBI) backed by Euro currency and will support major crypto currencies Bitcoin, Litecoin and Ethereum.

Citizenship coin is a new cryptocurrency for the CBI/RBI/EB-5 industry. Citizenship coin enables cheaper, faster, and efficient digital currency payments for the investment migration industry.

1 CTZ (¢) = 1 EUR (€)

Citizenshipcoin is currently, an experimental digital currency, set to revolutionize the investment migration industry, enabling instant payments to anyone, anywhere in the world. Citizenshipcoin uses peer-to-peer blockchain technology to operate with no central authority: managing transactions and issuing money are carried out collectively by the network. Citizenshipcoin Core is the name of open source software which enables the use of this currency.

Citizenship consultants, Agents, Lawyers, Real estate developers and even Governments may chose to accept citizenship coins in the future to facilitate faster processing of payments, without the need for intermediary. The source code of Citizenship coin is open source and free for the CBI industry. This enables all professionals in the CBI industry to collaborate, setup and work together and run the Citizenship coin network and exchange.
Wallet
You can send and receive citizenship coins through Wallet software, soon available for free download for Linux, Mac and Windows platforms. The transaction fee to sent and receive citizenship coins is negligible and will be controlled by network. The small fee is paid to network nodes confirming the transactions, which takes about 2 blocks (10 minutes) for confirmation. The wallet software can generate more than one account addresses to receive coins, so for privacy in transactions. No email registrations or login required to send or receive coins.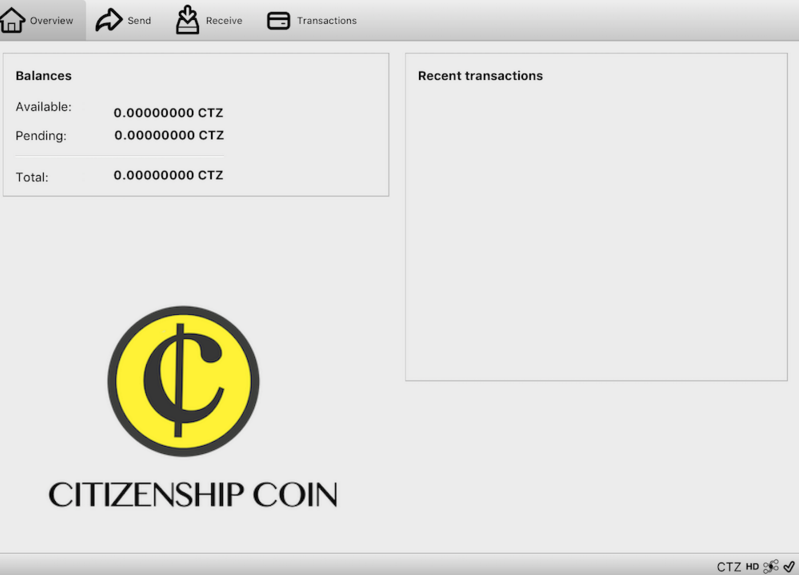 The total supply of citizenship coins will be 105 million about half of which will be exhausted in the first four years like bitcoin. The coin supply will be reduced by 50% (half) every four years because of the algorithmic difficulty.
Citizenship coins are generated through the process known as 'mining'. The first 50 million coins will be easily available for first 4 years until 2022 after that the difficulty will double. By 2050, Citizenship coin will be very difficult to mine and will be non-existent.
2018 to 2022 : 52,000,000 coins
2022 to 2026 - 26,000,000
2026 to 2030 - 13,000,000
2030 to 2034 - 6,500,000
2034 to 2038 - 3,250,000
2038 to 2042 - 1,625,000
2042 to 2046 - 812,500
2046 to 2050 - 406,250
2050 to 2054 - 203,125
2054 to 2058 - 101,562
Citizenship coin will support major fiat currencies like GBP, CAD, CHF (Swiss franc) in the future. Citizenship coins can be freely exchanged to Euros for a small 1% commission. All transactions are subjected to KYC/AML rules and identification requirements.

Citizenship coin will be widely used crypocurrency within the industry in the future in several countries in Europe, Caribbean,Canada,Australia, New Zealand, United Kingdom, United States where active investor visa schemes are up and running.
Exchange
Citizenship coins can be easily exchanged to EUR for a small conversion fee 1%. We propose to setup Citizenship Coin Exchange with the funds raised from ICO.
Initial Coin Offering
The pre-ICO for Citizenship coin will start on 18 April 2018 with the sale of 1 million coins!
100 Citizenship Coins (CTZ ¢ ) = €100 Euros
1000 CTZ = 1000 EUR
18 April 2018 - Initial Pre-ICO sale of 1 million citizenship coins
19 Oct 2018 - ICO Phase 1 starts with sale of 10 million coins
20 March 2019 - ICO Phase 2 start with sale of 10 million coins
Sep 2019 - ICO Phase 3 sale of 20 million coins
Dec 2019 - Final sale of 9 million coins ending the ICO


We accept Bitcoin, Ether, Litecoin for ICO, according to EUR value of these currencies, as CTZ is pegged to Euro

1 BTC = 5580 CTZ (exchange rate of EUR to BTC and 1 CTZ = 1 Euro )

We aim to generate EUR 10 million through ICO in the citizenship coin project to implement the digital payment system, acquire necessary licenses for the company, Network operation and Software development for the coin. The limited supply of citizenship coins and possibililty of future demand in the market, may cause the price of citizenship coin to go up, just like bitcoin which hit $20,000 per coin in late 2017. Minimum purchase is 100 CTZ coins.
Investors
Citizenship coin project needs major investment and invites major investors. Please contact us below
Free license
Citizenship coin is free open source software available for Citizenship consultants, Agents, Governments, Law firms and Real estate developers in the CBI/RBI/EB-5 industry. The Github private repositary code for citizenshipcoin can be found here: https://github.com/olddocks/Citizenshipcoin. The Github code has some bugs and may not work properly. To fix the bugs and run the code please contact us below.
Whitepaper
Please download our Whitepaper.
Download
Please download the wallet software which works in Windows, Mac and Linux. Older versions downloaded before 1 May 2018 will not work
Windows 64 bit 32 bit

OSX 64 bit
Linux 64 bit


Note: 32 bit versions works in 64 bit as well, while 64 bit does not work in 32 bit systems. Please read the installation instructions
Development
Citizenship coin is developed by Ajax Software LLC in Hungary and Mr. Balakrishnan is the lead developer involved in the creation of the 'Citizenshipcoin'.
Contact us
Please email us at info(@)citizenshipcoin.org or below

Twitter: https://twitter.com/citizenshipcoin
Facebook: https://www.facebook.com/citizenshipcoin/
Linkedin: https://www.linkedin.com/company/28603756/
Telegram: https://t.me/citizenshipcoin

The launch of citizenship coin first appeared in CIP Journal